Playing this music in the background helps you study and learn faster...
Superlearning Music Gives You:
Enjoyable Baroque Guitar Music at close to 60 beats per minute. Perfect for study.
Increases generation of powerful alpha waves on both sides of your brain for more efficient learning.
This creates the ideal brain environment for learning, study, creativity and relaxing.
Giving you a powerful study tool. Just play softly in the background, or create active concerts for super learning.


The Extraordinary Superlearning Music Full Album
Full 59 minutes of the perfect background music to multiply your study, learning and creativity. Perfect for both learning and study revision.
The Concise & Powerful Speed Reading Course PDF
Learn to read faster, remember more, and reach your study goals with the right technology. PDF. Reading faster and better will help your grades. Free with the Super Learning Study Music MP3.
Get Yourself Started With SPEED Spanish!
Get started with Spanish. Easy to follow course makes it easy. PDF. Free when you grab the Superlearning Study Music MP3
Simple & Fast Memory Training Program
Your brain can do so much more. Learn these simple techniques that make a weak memory a thing of the past. PDF
High Performance Superlearning & Relaxation Music
 Has Been One of the Most Popular Superlearning Music Albums Since Recorded in 1998!
Tens of thousands of students of all ages have gained the advantage of having powerful study music in their hands.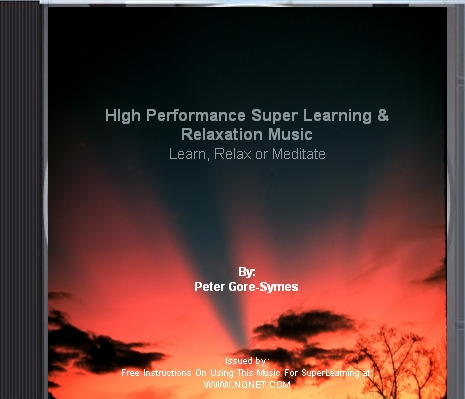 "Passive Concert" - Play It Softly While You Study, Learn or Think!
The simplest way to use this music is to play it in the background - just loud enough to hear. After a short time you will feel the effects as you receive a dose of alpha relaxation waves.

That's it. Just play it, softly.

This amazing collection has also become very popular with mothers-to-be. You can give your baby a headstart by playing this music while pregnant. Again - not too loud.


Get
Superlearning MP3 Album

Download
Now for
$18
Just
$4.95
Secure Your Copy of this Album and Take Control of Your Academic Success…
Copyright 2016 - Super Learning & Study Music - All Rights Reserved